TADIRAN AIROW 3™ utilises innovative technology to transform any wall-mounted and cassette split-system air conditioner into a disinfecting air purifiying device that eliminates airborne pathogens like viruses, bacteria and mould.
Requiring no maintenance, low electricity usage, and backed by rigourous testing internationally, the TADIRAN AIROW 3™ is an affordable, game-changing technology that will improve the indoor air quality of any space.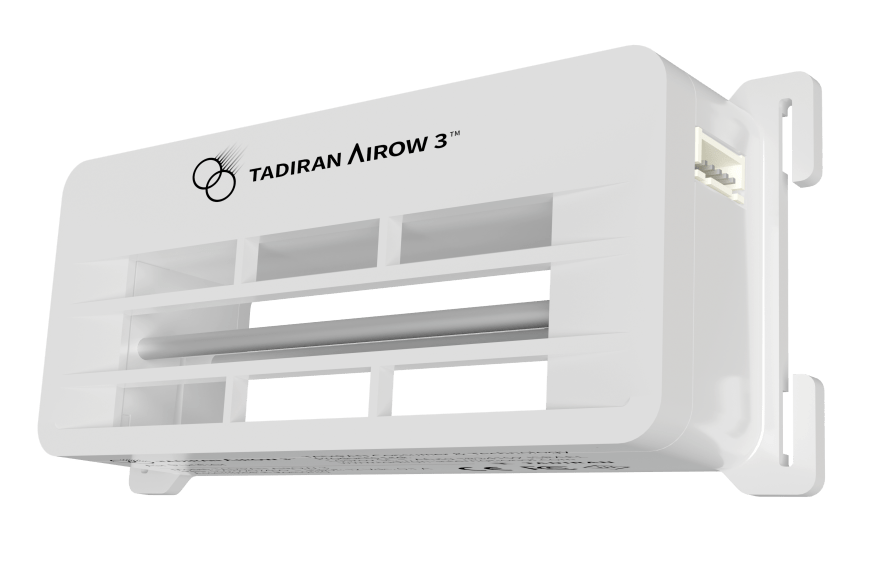 Eliminates viruses, bacteria & mould by up to 99%*
Purifies & disinfects the air with high efficiency
Simple installation with ZERO maintenance
The TADIRAN AIROW 3™ is a hydrogen peroxide-based air purification device that actively treats indoor air, effectively eliminating mould, bacteria, and viruses.
The O2 is separated into two Oxygen atoms which combine with the H2O molecules in the airflow transforming it into Hydrogen Peroxide (H202).
The Hydrogen Peroxide is then distributed in the conditioned space, eliminating aerosol pathogens.
Tested and approved by the world's leading laboratories
* Independent tests commissioned by Tadiran showed that TADIRAN AIROW 3™ technology eliminated known aerosolised pathogens under optimal testing conditions. TADIRAN AIROW 3 reduced detected Virus MS2 bacteriophage (known as SARS-CoV-2 surrogate) and detected Bacteria Staphylococcus epidermidis aerosol levels by 99.994% within 60 min (1 cubic meter test chamber). Aerosol of Blue mold was reduced with TADIRAN AIROW 3 by 99.4% within 3h in 25 m3 chamber. To learn more about the tests, visit here,